DC-Lesson 1
From LDS Sunday School
Introduction to the Doctrine and Covenants and Church History
Church Cirriculum
The official church guide can be seen at the Official LDS Church site for a direct link to this lesson
We encourage you to make sure you are familiar with the official church curriculum as the first step in your lesson preparation, as this is the material recommended by the General Authorities of the church.
Supplementary material here is not intended to substitute for lesson preparation, but hopefully it will enhance your preparations for Sunday School.
Additional Teaching Materials
In 1972, Herald House, the publishing arm of the Reorganized Church of Jesus Christ of Latter Day Saints (now known as the Community of Christ) published a reprint of the Book of Commandments. The ISBN is 0-8309-0066-7.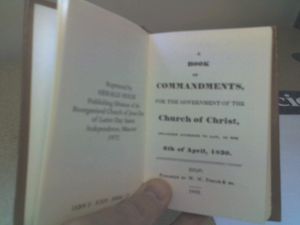 In the preface, it states that a committee was chosen in 1831 to print various revelations in a "Book of Commandments".
These handwritten copies were then taken to Independence, Missouri. There, W. W. Phelps, printer of the periodical to be, The Evening and the Morning Star, planned to publish them in book form.
The work progressed very slowly, so Phelps began printing some of the more important of those "Covenants and Commandments" each month in his periodical.... The typesetting on the book had progressed into the sixty-fifth chapter when a mob destroyed the printing house, scattered the galley sheets and type in the village streets, adn threw the press into the Missouri River. Some church people gathered the five large galley sheets already struck (each having thrity-two pages--sixteen on either side--making a total of 160 pages, including the title page), cut and bound them, and tried to distribute them as widely as possible.
Perhaps as many as several hundred of these unfinished books, in various makeshift bindings, found their way into the hands of church people, and were used until August 1835, when the First Edition of the Doctrine and Covenants was released from the church press at Kirtland, Ohio.
In addition to the seventeen documents printed in The Evening and the Morning Star (the ones included in the unfinished Book of Commandments), either other documents also appeared (in whole or in part) in the Star, evidently intended for inclusion in the Book of Commandments....
Many of the chapters in this book underwent considerable editing, enlargement, and rewording two years later when Joseph Smith chaired the committee that produced the First Edition of the Doctrine and Covenants.
The actual size of the book is rather small. It is approximately the size of a Blackberry, being about 5 inches by 3 inches, and 1/2 inch thick. It is 160 pages, containing 62 chapters.